Thinking your clothes were baggier with 〜気がする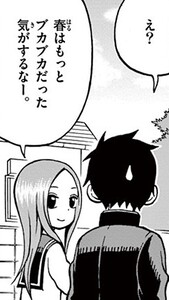 Takagi joins Nishikata as they head to school. They talk about having switched to their winter uniforms as the days are getting colder. Takagi asks Nishikata if he's gotten taller.
西片西片西片:

「え?」
"Huh?"

高木:

「春はもっとブカブカだった気がするなー。」
"I think your clothes were more baggy back in spring."